If you're new to Grammarly and you're wondering about the differences between Grammarly Free vs Premium, then you're at the right place. This article will break down the benefits of Grammarly Premium, show you how to use it, and give you tips for Grammarly Free if you're not ready to upgrade.
The importance of good proofreading and editing is undeniable. But unfortunately, everyone doesn't have access to a freelance proofreader and editor that will proofread every piece of content that they write. The next best thing (and likely the most efficient editing option) is an online writing assistant like Grammarly.
I know that you may be asking, "Can Grammarly improve my writing?"
Yes. For the casual writer who wants to improve their skills, Grammarly's free version can dramatically improve their writing. Plus, for the serious writer who produces large amounts of content (blog posts, eBooks, social media content, email, reports), upgrading to Grammarly Premium provides significant value for becoming a stronger writer.
What is Grammarly, and how does it work?
Grammarly is a digital editing tool that uses AI to highlight spelling, grammar, and punctuation errors in a text document. 
Grammarly is quite a useful tool for bloggers, journalists, and authors. It can be used on the web (check out their free browser extensions like the Grammarly Chrome extension), in Google Docs (my favorite place to use it), in the Grammarly Editor, desktop app, in Microsoft Office on Windows and Mac, on iOS and Android mobile devices, and on Grammarly for iPad. In addition, they have you covered for every device.


Grammarly highlights spelling and grammatical mistakes as you write (as you can see above – pretty meta, right?). The real-time digital editor also suggests edits and provides reasons for their suggestions, giving you the option to accept or ignore them. Plus, the Grammarly spell check feature is just the beginning of its feature set. There's much more to the proofreading and editing tool.


Another fun feature is the emoji-powered Grammarly Tone Detector, which analyzes the tone of your writing. The Tone Detector lets you know if your copy sounds formal, optimistic, confident, joyful, angry, and more (see all of the different tones in the screenshot above). This is really useful for social media copy. It's also neat how Grammarly analyzes and scores your writing for each WordPress Gutenberg editor text block.
Also, Grammarly will analyze your writing style, suggest synonyms to improve readability, and check for plagiarism (a crucial Premium feature for reviewing other people's writing because I know that you wouldn't plagiarize anything).
Bottom line: Grammarly is one of the smartest digital copy editing tools for writers…way more advanced than other tools in the marketplace. It's non-intrusive, fast, easy to use, and intuitive because of its excellent UX/UI.
A note for bloggers: Grammarly ignores markdown and HTML, which allows you to copy text directly from WordPress, plug it into the Grammarly editor, and then paste it into your WordPress post editor. Even better, you can use the Grammarly Chrome extension and make changes on-the-fly directly within WordPress. This is what I do, and I love it.
How does Grammarly improve your writing?
Grammarly helps you create more effective and error-free writing wherever you write. If you are a current Grammarly user, you know that you can use it to write and edit just about anything, including the following:
Blog posts, articles, and stories
Books
Client proposals
Business emails 
Social media captions
Check out this quick Grammarly video for an overview of the tool.
Grammarly improves readability and grammar.
Any word processing software can find misspelled words. Grammarly helps you to recognize patterns in your writing and provides insight into your writing style.
Do you use adverbs superfluously? ← Like this.
Do you have the habit of ending sentences with prepositions?
Do you overuse the passive voice?
Grammarly is like having a personal writing coach right inside your browser, providing help and suggestions at your side in real-time. It doesn't force you into a specific writing style but will use AI to give insight on your style and tone. The style/tone analysis is not 100% accurate, but it's still useful.
And let's not forget about Grammarly's gamification aspect. Grammarly emails weekly performance stats. They tell you metrics like how well your vocabulary has expanded, how many weeks in a row that you've written, the number of words checked in your copy, and more. These scoring features inspire and motivate you to continue writing.
Is Grammarly good for authors?
You betcha'. The app can handle any length of text. You can use Grammarly for novels and short stories right inside of Google doc or Word doc.
A note for non-Native English speakers: Grammarly helps you craft more genuine copy for English readers by helping you pick up on the nuances of the English language in your writing. Grammarly Premium's additional features make it the best investment for non-Native English speakers.
How to use Grammarly?
Okay, now for the big question: how do you use Grammarly?
The first step is to sign up for the Grammarly service and install the free browser extension.
For Chrome users, go to the Chrome Web Store and search for Grammarly, click the Add to Chrome button to start the installation. For other browsers, see instructions here.
How to add Grammarly to Word:
If you want to use Grammarly within Microsoft Word, download the native desktop Grammarly app for PC or Mac.
Other installation options include Grammarly Keyboard for iOS and Android mobile devices and the online Grammarly Editor (you can copy and paste any text there to be reviewed).
Proofreading and Editing with Grammarly
When you see a green "G" in the bottom right corner of your screen, Grammarly is properly installed and ready to unleash its proofreading and editing power.


If you see a gray circle with a "G," there's no need to worry. Grammarly recognizes that the text is long, and it wants your permission to proofread and edit it. All you need to do is give Grammarly the green light to check your text by pressing the YES, CHECK IT! button.
As you type, basic suggestions show up inline (underlined in red). 
To see why the text was flagged, hover over the underlined text. A small box will appear and display the reason the text was flagged along with Grammarly's suggested edit. To accept the suggested edit, click on the suggestion. To ignore the suggestion, click "Dismiss," and Grammarly will remove the red line under that text. It's that simple.



As Grammarly finds potential mistakes in your text (false negatives happen from time-to-time), the green "G" will change into a red circle displaying the number of errors Grammarly found in your text. The number in the red circle will decrease as you correct the errors. Clicking on the red circle will bring you to more advanced editing suggestions available in Grammarly Premium.
Grammarly free vs Premium: Is Grammarly Premium worth it?
While the free version is beneficial to writers of all levels, Grammarly Premium pays for itself quickly. If you're an active writer, Grammarly Premium is the next best thing to having a human proofread your work.
Grammarly Premium Benefits
If you're considering Grammarly Premium, here are some of the benefits to help with your decision:
Marks a lot more errors than the free version; offers over 400 types of checking features
Provides the writer with more specific suggestions such as rephrasing, synonyms, vocabulary enhancement, and citation suggestions
Grades correctness: grammar, spelling, and punctuation (main features of the free plan); adds consistency in spelling and punctuation, and fluency for Premium
Clarity: conciseness (free version does this), adds readability for Premium
Engagement: compelling vocabulary, lively sentence variety
Delivery: tone detection, confident language, politeness, formality level, inclusive language
Analyzes and edits sentence structure
Helps you make sure you are using inclusive language as to not offend certain members of your audience 
Software is constantly updated and keeps improving
Highly customizable: set goals before you begin writing

Audience, formality, domain, tone 

For freelance writers, you can set different settings for different clients. This allows you to be consistent in brand tone and voice for your separate clients
Add words to personal dictionary
Ability to use native desktop apps (also in free)
Access to personal editor on the Grammarly site (also in free)
Integrate with Microsoft Office (also in free)
If you need a more custom enterprise solution for things like company style guides, consider Grammarly Business.
Grammarly Free vs Grammarly Premium: Should you level-up?
Yes. Upgrading to Premium is likely to give you a high ROI when your clients and readers read your new and improved writing. It will also save you time during the editing process as you create copy across various platforms and channels.
How much is Grammarly Premium? 
If you hired a freelance editor to proofread, edit, and help rewrite your work, it could cost you around $45/hour for the service. And if the editor is new to your writing, it could take them longer to complete the job.


Grammarly Premium acts as your personal writing coach, proofreader, and editor for $30.00/mo (billed monthly), $20.00/mo (billed as one quarterly payment of $60), or $144.00 (billed annually - breaks down to $12.00/mo) 
Considering all the time Grammarly helps you save, upgrading to Grammarly Premium might serve as a valuable investment in your writing career. This could be true for even the most seasoned writer. Think of it as a life hack. Try Grammarly by clicking the image below: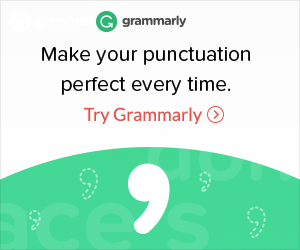 In Conclusion
In the debate of Grammarly free vs Premium, should you upgrade to Grammarly Premium? Oh yes.
We believe that Grammarly Premium is the smart choice for both beginners and serious writers. The free version goes a long way to improve your writing skills, but the Premium plan upgrade provides a more customized experience for writers like you at a reasonable price. With all that said, the key to taking advantage of Grammarly's benefits is to get started ASAP!
Are you ready? Put Grammarly to use as your write content using the helpful 3x3 writing process.
P.S. - This post was proofread by Grammarly Premium.