In 2022, if you are a business that does not have a website or yours is out of date, it is similar to not having a business card or signage out front. While there are still some who will consult the Yellow Pages when they want to find a business to meet their needs, these people are becoming few and far between. A majority of people around the world go to the web first when trying to find someone to fix the roof, handle their banking, or get them where they need to go. This Ultimate SEO checklist for 2022 will help you get your website ready for today's connected marketplace or you can consult with a strategic SEO agency to put thrust behind your organic search rankings.
What is SEO and why does it matter?
SEO stands for search engine optimization. It all has to do with how to get people to see the fabulous website that you built so that they can take advantage of your services. People have become accustomed to search engines that can meet their requests so precisely that they hardly scroll past the third page of search results.
If your website does not appear on the first couple pages of search results, it is like having your business stashed in a back alley with no signage or any way to find it. Getting your webpage to rank among those coveted top spots on the first page is where SEO strategy comes into play. First, let's explain a little bit about how search engines match websites with queries.
Google depends on the relevancy of the results that it returns for its customers. If the person types in, "plumber Houston", Google wants to make sure that they do not get search results that include electricians in New York. This would be frustrating for the user and would not be of much use. To ensure that Google provides searchers with what they want, they have developed a list of criteria that help them rank websites for certain search terms.
What all of this means for you is that if you are putting up a new website, getting the SEO for new site rank correct will help you drive traffic and get your business placed in front of those who need it the most. Google places emphasis on quality content when it comes to page rank. If you want to drive your business in 2021, you must be on top of your game when it comes to SEO for your new website.
The Ultimate SEO Checklist for 2022
The next question is how to use this information to get your page into the top search engine ranks. SEO in 2021 has become complex and involves many different working parts. Google continually updates its algorithm, so it can provide more precise search engine results to a tech-savvy audience that expects it. I have put together this checklist to help you understand the areas you need to address and some of the items that can help you improve your rank and grow your business in 2022.

How to use this SEO checklist
SEO activities can be divided into five different categories. This list was developed so that you can go through each section and see how your site stands up. Not all of the items on this list will be relevant to your website, but some portion of each of the key areas will be to some degree. You can use this list as a step-by-step guide to help fix the issues in each category and check the items off of your list.
Of course, the more items you can check off, the better your page rank will be. If this is a new site, you can start from the beginning and use this list as a final check before you launch. If you do not understand a certain category or items on this list, there are plenty of professionals available who are willing to give you a hand in getting your site up to Google's standards. Now, let's get into the five areas of our Ultimate SEO Checklist for 2022.
1. Basics for every page
Certain basics are important for every site. If these items are not taken care of, it will be difficult for you to rank for the search terms that you want, even if everything else on the list has been checked off.
Set up the right tools. Google and Bing are the two biggest search engines on the web. They have provided a set of tools that give you a wealth of data for free. The first thing that you should do is set up Google Search Console and Bing Webmaster Tools on your site.

Connect with Google Analytics. Google Analytics lets you know a little more about your target audience. It gives you information about who they are and how they are interacting with it. This allows you to better plan future strategies and campaigns.

Use an SEO plugin. If you are using WordPress as your content management system (CMS), then you should take advantage of one of their free plug-ins to help analyze your content. There are many good ones out there available, but I would choose between Yoast and RankMath.

Make a sitemap. A sitemap is simply a list of URLs of what you think are the most important pages on your website. Submitting this list to Google tells the crawler which pages it should ignore when ranking for keywords. It also tells the crawler how often you update your website. Those silly crawlers love websites that are updated often!
P.S. – Both Yoast and RankMath can create sitemaps for you. Submit your sitemap to Google by using the Google Search Console tool.

Make a Robots.txt file. If there are certain pages of your website that should not be crawled, this file will tell the crawler to ignore them. Some SEO plug-ins will create one for you, but some people have to create one manually.

Keep up with spam. Another plug-in that you should consider for your website is an anti-spam plug-in. If people place spam on your website, this can cause you to drop in rank. You need to make sure that you keep up with deleting it. A good plug-in can help you keep up with the load.

Make sure Google indexes your site. Some technical issues can cause your site to not be indexed by Google. You can see these in the technical categories of the checklist, consult a professional, or use other troubleshooting methods to find the problem.
2. Keyword research
You probably have several search terms that you want to rank for that are related to your business. If you do not rank for the right search terms, you will probably not turn visits into sales. You need to know the right keywords to include that are related to your business, and you need to develop a strategy for trying to rank for the right keywords and target audience. Here are a few suggestions to help you get started.

Know your competitors. This is a basic task for any business plan, and SEO optimization is no exception. You need to identify your competitors and enter their sites into an optimization tool that tells you which keywords they rank for and how they are using them. This might give you a few more ideas to expand the keywords you intend to use for your own site.

Know your most important keywords. You need to know which keywords will be the most profitable for you. Free keyword tools are available that will allow you to search for keywords related to your primary products and services. Ranking for these keywords is likely to bring the right customers to your website who are ready to buy your products and services.

Use long-tail keywords. Finding your main keywords will help you connect with your main audience. The problem is that your competitors are also trying to rank for these keywords. Long-tail keywords are targeted and help you connect with an audience that is looking for more specific information.

For instance, if you are a seed company, you could expect that many people would be searching for "carrot seeds". This search is likely to return hundreds of thousands of results and hundreds of pages. If you try to rank for "microgreen carrot seeds for warm climates," then you are more likely to attract a slice of the audience looking for carrot seeds because your competition may not have tried to rank for those terms.
Power tip: Start with general blog topics and then use a tool like the SEMrush Keyword Magic tool to turn those topics into long-tail keyword ideas.

Create an organized strategy. Next, you need to create an outline that tells you which keywords will be connected to specific pages on your website. You also need to identify questions that searchers ask. Using the carrot seeds example, searchers may ask, "When should I plant carrots in the spring in Tennessee?" Questions such as these can give you great ideas for content that helps solve an issue for your customers and helps you achieve a higher search rank.

Prioritize your keywords. You need to know the difficulty of achieving rank for each of the keywords that you have identified and develop a calendar for the content that you create.

Create a content calendar. Search engines reward websites that add fresh, new content regularly. If you are not a professional writer, it is easy to sit staring at a blank screen and have no idea what to write. This is where a content calendar can be your best friend. Your content calendar can align your keyword strategy and serve as a guidepost in creating regular, consistent content. The importance of a content plan was a key topic at the Content Marketing World 2020.
3. On-page SEO

On-page SEO refers to the content that you produce. Of course, you want to make sure that you're writing for humans instead of search engines. This means that using your keyword terms naturally and avoiding any language that makes you sound awkward.
Long-form content is king when it comes to driving organic traffic to your website. According to SEMrush's State of Content Marketing Report, long-form content of 3000 words and longer get 3x more traffic and 4x more social media shares than shorter content. Also, long-form content gets 3.5x more backlinks than standard-length articles (901 to 1200 words).
Do you need help with creating long-form content, call on the team at NeoLuxe Marketing.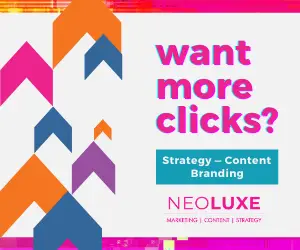 Some other things can affect your search rank. Here are a few of the most important ones that you should take care of to maintain your rank.
Fix title tags. Make sure to close your HTML tags in your H1 titles. This is what the search engine looks for to decide what the page is about. Make sure you have no duplicate titles or titles that are too long. Including keywords in your main title will also help your rank.

Fix meta descriptions. The same principle applies to your meta descriptions that apply to your title. You should look for any duplicates and make sure that every article has a meta description. If you don't know what this is, the meta description is the little snippet of your article that appears below your title on the Google page. This is the information that will encourage someone to click on the article and read it, and it should also contain appropriate keywords.

Optimize all page content. All page content, including the articles, tags, title, and meta tags should be optimized for appropriate keywords.

Use ALT tags for images. Images play an important role in page rank. You should make sure that each of them has an appropriate description, has been sized appropriately, and are of good quality.

Internal linking. Internal links are one of the ways that you can begin to experience gains quickly. Including one or two links to high-quality pages on your own website can significantly improve your search results.

Fix orphaned pages. Every one of your pages should be linked to at least one other page. If Google can't crawl through to other pages through your website, it will not consider your content to be an authority on the topic. All pages on your site map should be accessible through at least one other page.

Keep it fresh and updated. Google likes to see that you add new information to your page regularly. Even updating old articles can help improve your rank. It is a good idea to include this item in a regular audit.

Audit and prune. You should schedule regular audits to evaluate your content and all the points of on-page SEO. Some sites have found benefit in removing content that doesn't rank or doesn't add value to the site. Google wants to provide searchers quality, so make sure that yours fits this description.
4. Technical SEO
The technical side of SEO refers to how well your website performs. Here are a few of the key points to check for on your site.
Secure your site. Make sure that you are using HTTPS and not HTTP. Google now considers this an important factor.

Check for duplicate versions. If you have done a website upgrade, you might have old versions of your site hanging around. If you can't eliminate them from being found, then make sure to use a 302 redirect to point them to a single page.

Fix crawl errors. Use Google Search Console to identify and fix any crawl errors.

Speed is important. If your page loads slowly, you need to take action to correct this issue. Google likes sites that give quick results to its users.

Fix broken links. It should seem obvious, but you need to fix any broken internal and outbound links. It is a good idea to run a regular audit to make sure that they are all accurate and working.

Mobile friendly. Check your website to make sure that it is mobile-friendly. A majority of searches now come from mobile devices instead of PCs.

Use SEO-friendly URL structure. Make sure that your URLs have keywords rather than search query strings.

Check page depth. Another factor to keep in mind is that no page should ever be more than three clicks into the website.
5. Off-Page SEO

Outbound links to authority pages and inbound links to your page tell Google that others consider your content to be valuable for a particular topic. Here are a few tips to improve your off-page SEO.
Competitor link analysis. This is another area where your competition can give you insights that can help you with your own link strategies. Analyze their pages to see if they are taking advantage of certain authoritative sites that you are not.

Search for new link building opportunities. Always search for new opportunities to link to authority pages outside of your own. For instance, if your organization was mentioned in a news article, it is an excellent opportunity to build an outbound blank.
Now you have the ultimate SEO checklist for 2022, and you are ready to get started improving your search rank and helping your business grow. This list covers the basics that you need to begin to see big leaps in your search rank. Of course, it is all up to you and how many of these factors you decide to include in your search engine strategy. Now, is the time to begin making 2022 the best year ever for your business.