There's nothing quite like sitting down to write and having some useful writing tools near at hand. For example, as I type right now, to my left, is a light blue gel pen. Next to my laptop are two notebooks, ready for notes, ideas, and plans. 
Your favorite writer tools help create an optimal writing environment. They can boost your creativity, not to mention aid your writing process. So, without further ado, here are 10 useful writing tools that we love at Inspire First.
Have you ever noticed your eyes feeling strained or fatigued after hours spent writing on the computer? Blue light glasses are a great way to help. I use mine all the time —as a matter of fact, I'm wearing them now as I type. There are a lot of styles to choose from, and we've written about more of our favorites.
If you like to color coordinate ideas, or just write with different colors of ink, Pilot G2 pens are hands down the best. Unlike other gel pens, they don't smear and the ink isn't "narrow" for want of a better word. You probably have written with the basic black, navy, or red G2 gel pens, but there's a whole variety of colors available. (Turquoise and magenta are my two favorites!) If this sounds tempting, treat yourself to this collection. It will be worth it, and these pens last for years. 
Who said gel pens were enough? These flairs are more markers than pens, perfect for highlighting or writing quick notes. The felt tips allow for precision that you can't get with a proper marker. And, they're colorful: a great match for your gel pen collection!
Now that we've got your writer tools —that is, your favorite pens sorted out, let's turn to music. We've shared our favorite playlist, but how better to listen to it than on a portable speaker? 
Ahh, you are working in a shared workspace? Then enjoy that portable speaker at home and take along some headphones. (Pro tip: keep a set of headphones in your standard writing backpack or briefcase. You'll always be thankful when you need them in a pinch, and there they are, waiting.) For more of our favorite headphones, don't miss this post.
If your desk is like mine, it could use a little bit of organizational help. This office sorter has 6 compartments, yet it's not too big in an organizer-going-to-take over your desk type way. Plus, just imagine how nice your gel and felt tips pens would look in there? What's more, you would have space for the next item on our list.
7. Sticky Notes
Do you use scraps of paper? The backs of envelopes? That random page in a notebook that happened to be opened? (And which notebook was it, anyway? Has anyone seen it recently?) Let's face it. Sticky notes are pretty much God's gift to writers. Stick them to your desk. Your laptop. The wall. That place in the book you're using for research. Make a list of all your to-dos, one per sticky note, and then have the satisfaction of throwing away each on completion. The possibilities are endless! 
If you'd rather move away from paper products, then the Rocketbook is right up your alley. This reusable notebook will let you scan and sync your notes. Plus, it syncs with Google Drive, Evernote, email, and more. Pretty nifty and high tech!
Yes, yes. Google has your schedule. Or Gmail. Or whatever other app you use. But would you still like to see it? This dry erase calendar is a great way of keeping track of daily life, writing deadlines, and more. And as a bonus, this one is double-sided (and magnetic!) plus it comes with a set of dry erase markers, ready for use. 
Last but not least, since we are talking about useful tools for writers, don't forget about Grammarly! We've written about its pros and cons and compared the free version with premium. As you'll see, it's an asset many writers use and can help you improve your writing.  Try Grammarly by clicking the image below: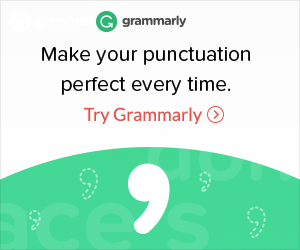 There. Those are our 10 favorite useful tools for writers. (And some of them would be great gifts for writers, too!) We hope you enjoy using them, and may they help inspire your writing and creativity.